Easy and Convenient Communication To Ensure Security
The ability to communicate with visitors at the entry to your premises provides a wealth of benefits, allowing easy identification that contributes to improved security.
The Algo 8028 SIP doorphone and intercom provides this, enabling safe and convenient communication with visitors for assistance and remote entry.
Greet visitors from any phone connected to your communication network and allow entry with the simple press of a key. This SIP intercom device is great for unattended lobbies front doors, gates, warehouse doors, or anywhere visitors may require assistance.
Installation
Install the full duplex capable digital door station anywhere you can run single pair 24 AWG wire. The network connection and door control relay are located securely inside the premise at the Controller location.
Flush or surface mount the door station indoors or outdoors. The Algo 8028 SIP doorphones are suitable to use in commercial and public facilities, as well as at private residences.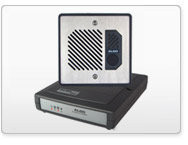 Features
SIP
SIP Endpoint with auto-provisioning capability
Web interface for remote configuration
Initiates or accepts calls
Single Pair Digital Door Station
Single pair 24 AWG wiring up to 1,000 Ft (300 m) from controller
Flush or surface mount weather-resistant enclosure
Full duplex capable
Stainless steel or brass
Backlit call button
Security & Safety
Door control relay located securely inside the premise at the Controller location
Network connection not exposed outdoors
CSA/UL approved for outdoor location
Supervised link to door station
Door Sensor & External Call Button
Door sensor or call button input at controller or door station
In-use or call button output at controller or door station
Door control relay from controller with available 24V 300 mA power
Residential or Commercial
FCC & CISPR22 Class B approval for residential use
Single pair wiring for easy retrofit
Equally suited for commercial, residential, or public facility
Basic System Diagram