Never miss important calls and notifications again!
Having trouble hearing the phone ring in noisy warehouses? Fed up with missing important announcements over your PA system? The 8180 SIP Extension Ringer is your best solution.
The 8180 SIP Audio Alerter is a SIP compliant PoE network audio device. It's designed for loud ring and voice paging applications, operating with dual endpoints.
When registered with a SIP server, one endpoint will play an audio file from internal memory upon ring detection. The second endpoint auto-answers for voice paging and comes complete with two-way talkback.
Outstanding Features for Superior Performance
Equipped with a high efficiency integrated amplifier and tuned high quality loud speaker, the 8180 SIP Extension Ringer is typically eight times louder than a telephone speaker. As well, the sound can be amplified further with the use of the optional 1185 Horn Speaker, bringing it to 20 times louder than a typical telephone speaker.
Several audio files are pre-loaded into the 8180 internal memory for ring sounds, but users may also record or upload custom audio files, music, sound effects, or voice announcements, allowing for great flexibility.
The advanced features of the 8180 SIP Extension Ringer include SoundSureTM technology which automatically adjusts loud ring and paging volume. This compensates for background ambient noise, making it ideal for variable noise environments (e.g. restaurants, workshops, classrooms, etc.). SoundSureTM ensures that ringing or paging is always heard without being unnecessarily loud.
Furthermore, outputs for external speaker, slave amplifier, or visual alerter plus multicasting capability enable many more options for enhancement of notification and alert capabilities.
Configuration of the 8180 SIP Extension Ringer is done by using the feature buttons or web interface.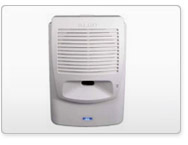 Features:
SoundSureTM ambient noise compensation to automatically adjust output level
Voice Paging with talkback capability
High efficiency and high output wideband speaker
Pre-loaded with several ring tones including bell, chime, gong, buzzer, warble, and dogs
Supports custom uploaded WAV files or recorded messages
Multicast receive or broadcast capability
Outputs for external speaker, slave amplifier, or visual alerter
PoE (Power over Ethernet)
Applications
Loud Ringer in noisy or variable noise environments (classroom, restaurant, machine shop)
Voice Paging (warehouse, workshop)
Outdoor ringing or paging with optional horn speaker
Multicast wide area notification
SIP interface with ambient noise compensation for existing speaker(s) or analog input paging amplifier
Visual notification in quiet areas (church, hospital, theater)
Benefits
Network managed SIP endpoint
Dual purpose loud ringing and/or talkback voice paging
Significantly louder (eight to twenty times) than typical telephones
Low frequency tones outperform traditional shrill electronic ringers
SoundSureTM ambient noise compensation adjusts output for noise level
Selectable/customizable alert tones or announcements
PoE eliminates local power supply
Multicasting capability for wide area notification
Specifications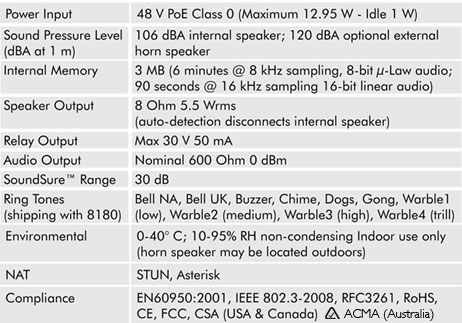 Front & Back View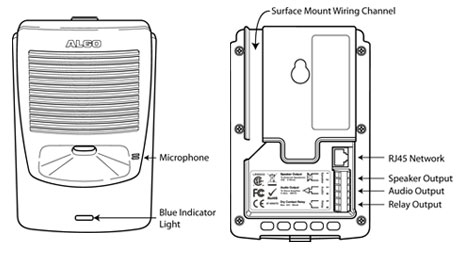 Typical Setup